Just like photocopying, printing needs an 'original' to work from - this original is called 'artwork'. It's usually a computer generated document, but it can also be a series of hard-copy images.
You must send us your artwork when you place an order (or we can produce it for you at extra cost).
Artwork for high-end printing - ideal settings.
Include 3mm bleed around every page.
Allow a 3mm margin (safe area) around every page.
Convert all fonts to outlines/curves.
Supply files in CMYK mode.
Ensure all colour bitmaps are created at 300dpi.
Flatten all transparencies and layers.
Supply artwork as 'press quality' PDFs.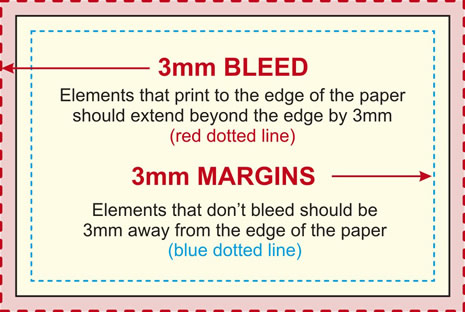 You can convert most documents to PDF format if you have the right software. You can download a basic PDF creator here - it's free.
Booklets and multi-page documents: Supply one document containing all pages in the correct order. Please don't assemble pages into pairs (unless requested to do so) - ours is a computer assisted process and requires single pages, correctly sized and with the correct orientation.
For some styles of booklets we may ask for the cover pages to be supplied separately as pairs. If this is the case you will be informed when the suitability of your artwork is confirmed.
Want more in-depth info? - click here.
Need a tutorial? - try here.